As a roofing company in Phoenix, our clients often come to us to ask about the best roofing choices for their homes. The debate over a flat roof or a pitched roof is a hot one!
Your friends at Four Peaks Roofing have compiled this handy guide to help you determine the best roofing type for your home.
Flat Roofs: Pros and Cons
Whether designing a new house or considering a roof replacement, flat roofs come with many unique characteristics that make them a popular choice for many homeowners and builders. Below, we've outlined the pros and cons of flat roofs.
The Pros of Flat Roofs in Arizona
Affordability
Flat roofs tend to have a lower installation cost compared to pitched ones. They require fewer materials and are easier to install, making them more cost-effective.
Energy Efficient
Flat roofs from TPO or EPDM are energy efficient, long-lasting, and lightweight. In addition, they help reduce heat absorption in hot months, so you can rely less on air conditioning, reducing your carbon footprint and monthly expenses.
Space Saving Design
Flat roofs provide more efficient use of square footage because most don't require additional attic or loft space. This extra space can be used for storage, insulation, or outdoor living space.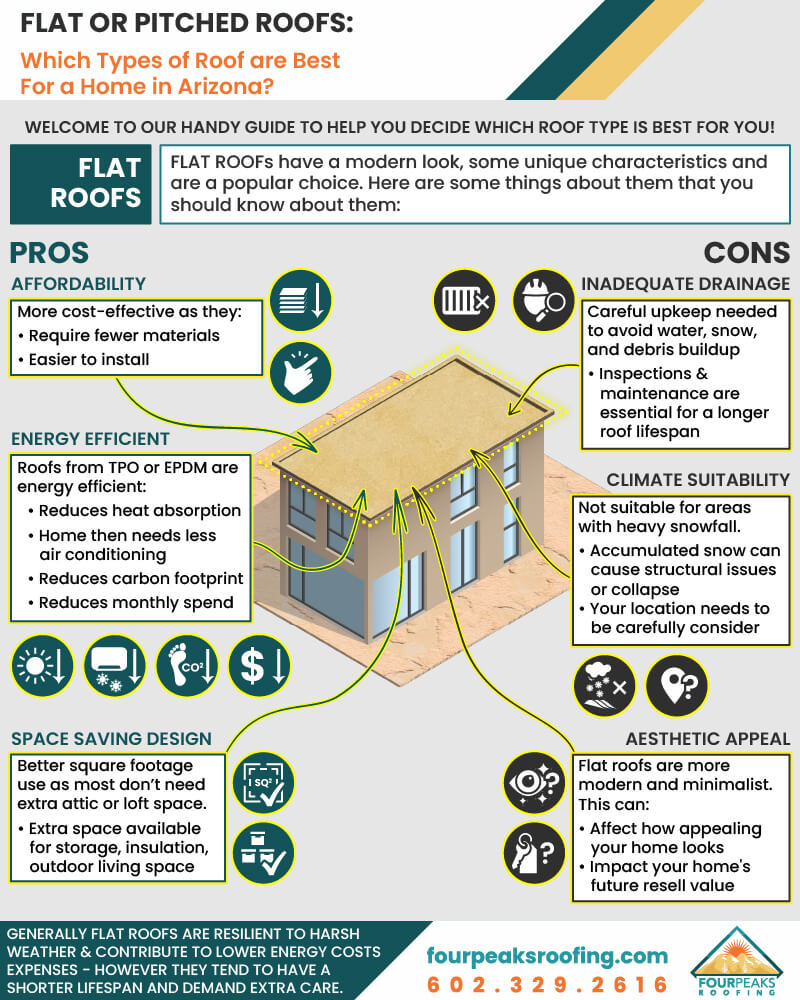 The Cons of Flat Roofs in Arizona
Inadequate Drainage
Flat roofs require careful upkeep to avoid water, snow, and debris buildup, which can lead to leaks and damage. Routine inspections and maintenance are essential for a longer roof lifespan.
Not Suited For All Climates
A flat roof may not be suitable for areas with heavy snowfall. The weight of accumulated snow can lead to structural issues or collapse. Carefully consider your location and weather before opting for a flat roof.
Aesthetic Appeal
When considering a flat roof for your home, consider how it may affect its aesthetic appeal and resale value. Flat roofs are more modern and minimalist than pitched roofs, which could reduce your home's saleability.
Pitched Roofs: Pros and Cons
Pitched roofs are a classic choice for many homes and remain one of the most popular roofing choices for residential homes. However, there are some pros and cons you should consider for this type of roof:
The Pros of Pitched Roofs in Arizona
Aesthetics and Versatility
Pitched roofs are popular for their aesthetic appeal, with various styles, materials, and colors available. It can add a touch of elegance to the exterior of your home. Furthermore, its sloping design offers extra space beneath the roof, which can be used for an attic or vaulted ceilings for additional storage or living space.
Durability and Longevity
Pitched roofs are advantageous for their durability and long lifespan. They rapidly drain water and debris, preventing damage and saving homeowners money in the long run. Some materials like metal or slate can last up to 50 years with good maintenance.
Insulation
Pitched roofs can provide improved insulation, creating a protective barrier against extreme temperatures and helping to keep energy costs down. They also offer additional attic space for extra insulation.
The Cons of Pitched Roofs
Initial Cost
One of the most significant disadvantages of pitched roofs is their initial cost and installation complexity. Depending on the materials chosen, a pitched roof can be more expensive than a flat roof.
More Challenging to Maintain
Pitched roofs require more challenging maintenance compared to flat roofs. Sloped surfaces can be difficult to access and may need professional help for roof repairs or replacement.
Limited Roof Space
While pitched roofs can offer additional interior space, they provide less flexibility for exterior roof usage. Homeowners looking to install solar panels, rooftop gardens, or other roof additions may find it more challenging to do so on a pitched roof than on a flat roof.
Which Type of Roof is Best For Your Arizona Home?
In the sunny state of Arizona, homeowners can choose between flat and pitched roofs. While flat roofs boast resilience to harsh weather and contribute to reduced energy expenses, they tend to have a shorter lifespan and demand extra care.
On the other hand, pitched roofs offer superior elemental protection, efficient water drainage during heavy downpours, and enjoy a longer life thanks to minimal debris build-up and water pooling.
Depending on where you live, both options could be suitable for your home. By considering all of the pros and cons of a flat and pitched roof, you can decide which type suits your Arizona home.
Four Peaks Roofing: We've Got You (and Your Home!) Covered
Four Peaks Roofing offers the highest quality roofing services in Arizona. Whether you're looking for a complete roof installation or replacement, roof repair, or maintenance, our experts will provide the best solutions to fit your needs.
If you're ready to upgrade your roof or need expert advice on what type of roof best suits your Arizona home, contact us today.