Is it time to repair or replace the roof of your home? How can you tell? When the outside comes in, or you see more damage than actual roofing, it may be time for roof replacement in Phoenix! Here's what you need to look for!
Water Leaks
Water where it shouldn't be, especially after a weather event, is a clear and present sign your roof is no longer in top condition. It could also be related to uneven wear or a weakening of the roof materials due to poor quality or poor installation.
Small water leaks can be repaired in a localized roof area but often go undetected until it's too late and more extensive repairs are required. If it's too far gone, it's time to explore new materials for a roof replacement in Phoenix.
Cracked Shingles
A cracked shingle here and there should only require a quick repair. However, if most of your roof shingles have cracks, consider replacing the whole roof. Be sure to check in the attic for underlying damage or leaks near the cracks. If the damage is widespread, you should hire someone to install a new roof before it gets worse.
Curling or Bubbling Shingles
Curling is when the edges and corners of the shingles peel away from the roof and begin to look like cups. Bubbling or clawing is when the opposite occurs, and the center bubbles up. Both could be due to extreme temperatures or the age of the roof.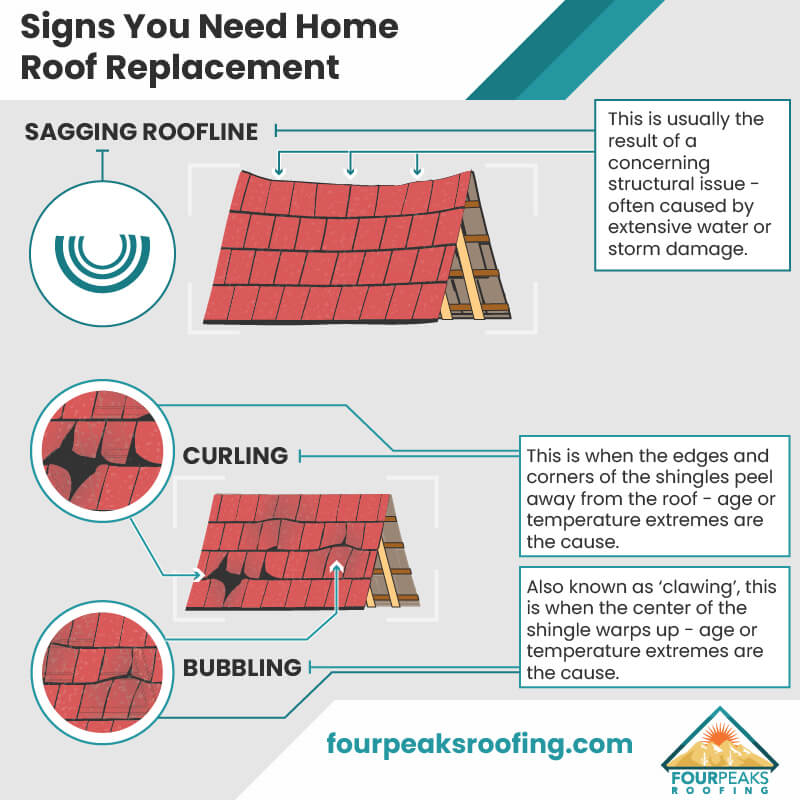 Sagging Roofline
A sagging roofline is usually a concerning structural issue, not related to the roofing materials themselves. However, this is often due to extensive water or storm damage caused by poor roof conditions. If the roofline is sagging, a roofing contractor in Phoenix will need to remove the old roof and repair the structural damage below before they can install a new roof.
Roof Garden
If plants are beginning to take up root on the roof, they may just need a good cleaning. However, these natural growths also encourage other unwanted pests, such as bugs and birds, which may have caused underlying damage that a professional must assess. If the growth and effects are extensive, the roof may need to be replaced.
Roof Rot or Discoloration
Unaddressed roof rot due to trapped moisture or rotting materials can lead to a sagging roofline and complete roof replacement. In Phoenix, the warm and dry climate makes this less likely, but the lowest portions of the roof can collect and retain moisture from the drainage of the rest of the roof after years of storm damage. Check the edges and corners of the roof for rot or streaks of discoloration in open areas.
Missing or Balding Shingles
Shingles fall off for many reasons, including high winds and age. If there are more shingles in the yard than on the roof, it's time to replace them all.
Asphalt shingles are made with asphalt granules on the surface, similar to coarse sandpaper. Localized balding could be repaired, but if this is a sign of age rather than damage, your home may need a new roof.
Clogged Gutters
A byproduct of balding asphalt shingles is clogged gutters. If there hasn't been any recent storm damage to leave behind natural debris in your gutters, check for asphalt grit.
The Roof Is Old
Do the math on how old the roof is. When was the house built? If the roof hasn't been replaced since the original construction, a new roof should be installed. Most asphalt shingle roofs last for up to thirty years, whereas metal roofs can last forty to one hundred years.
We never suggest that you replace a roof "just because it's old." But it's important to remember that once it begins to show signs of aging, the home is at risk of developing any or all of the above issues, which could lead to additional costly repairs. Sometimes it's better to be proactive than reactive.
Not Sure If Roof Replacement in Phoenix or Repair Is Needed? Call Us!
It can be challenging to determine if the damage or age is significant enough to require replacing or if localized repairs are sufficient. When in doubt, call the pros at Four Peak Roofing!
We'll send out a highly-qualified project manager to assess the situation and give you a fair recommendation. Call today for a free quote for your roofing repair or roof replacement in Phoenix, AZ!