The roof is a home's protective shield against damage from exposure and weather events. The proper installation and repair of a roof is a critical job that should be handled by a licensed and professional roofing company, no matter the size of the project. What should homeowners look for in roofing companies?  Phoenix residential roofer, Four Peaks Roofing, believes it's an investment.
Depending on the materials used in construction, roofs can last several decades and as long as a century. It's important for homeowners to choose who their roofing contractor will be after careful consideration and research. The consequences of poor craftsmanship or insufficient expertise can be disastrous.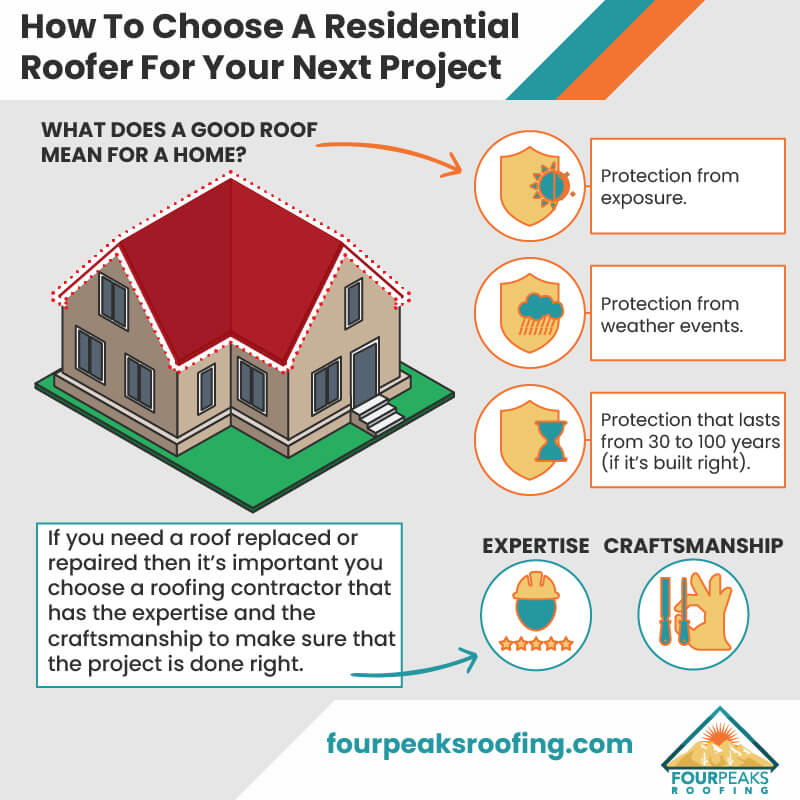 As the premier roofing company in Phoenix, we'll lay out everything you need to know before signing a contract with a residential roofer.
Find Out About Their Licensing, Bonds, and Insurance
We've heard the story several times. Homeowners on a budget look for the steal of a deal and choose a contractor who isn't sufficiently qualified to save a bit of money. A reliable and trustworthy roofing contractor will have adequate insurance coverage, comprehensive licensing, and worker's compensation in case of an injury.
Four Peaks Roofing is one of the premier roofing companies in Phoenix and is fully licensed, bonded, and insured throughout the state of Arizona. We also bring over 30 years of experience to the project and a KB-2 level license which means we can handle extraneous construction projects surrounding a roof replacement or repair.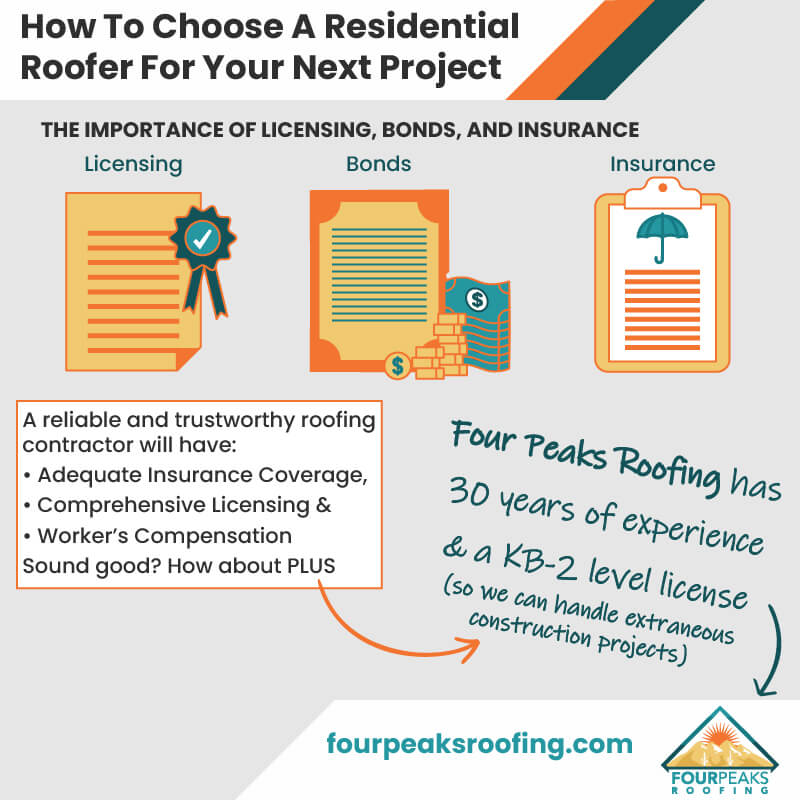 When roofers cut corners, accidents are more likely to happen. The recovery from an incident like that often results in far more damage and unforeseen expenses. It's not worth the headache and financial loss.
What's The Difference Between A Roofing Company and An Independent Contractor?
It's imperative for homeowners looking to complete a roofing project to understand the difference between independent contractors and roofing companies. Independent contractors are often small operations and have only one point of contact. This usually means projects can take much longer, and some may not be a good fit for a small crew.
Whole roof installation or large-scale roofing repairs should be trusted only with a reliable roofing company that can handle everything from dismantling and installation to extraneous construction and repairs.  A company will also come with an entire team to provide the highest level of customer service possible.
Check Reviews and Testimonials
Happy customers, as well as unhappy customers, leave reviews for businesses they've hired. This is an unbiased place to comb through for insight into who would be a desirable project partner.
These are particularly crucial for locally-based roofing companies. Phoenix homeowners can see customers' issues and how the company responded to their concerns.
Some residential roofers will offer references for past work. Follow up on this data and get a clear picture of what it would be like to work with them. A few red flags to watch out for would be an inability to stick to the timeline or in what condition they left the property and the project.
Read All Contracts Carefully and Ensure Everything Is In Writing
Even for small projects, it's crucial to get everything that's been discussed and agreed to in person in the contract. Ensure that everything from pricing, project timeframe, materials, insurance, and the process for making payments is in the contract.
Read everything carefully before signing and double-check for any hidden prices or loopholes for potential price increases. If there are doubts about the contract's validity or the terms, don't sign!
Ask About the Clean-Up Phase
New roofing installation or repairs on a roof can create a significant amount of waste. The last thing homeowners want to see is piles and piles of asphalt shingles laying around their driveway or yard for an undetermined amount of time.
Find out how the roofing contractor plans to remove and dispose of the materials. Ask to schedule a final inspection to ensure they have left the project in better condition before they started.
Determine a Timeline
Contractors who want to agree to a vague or open-ended schedule should be a red flag. There should be documented benchmarks for projected progress and open lines of communication between all parties.
Some delays may be unavoidable due to unforeseen structural issues or supply delays. However, the homeowners should also be immediately informed of the plan to resolve those delays with a newly defined timeline.
Skip The Guesswork! Call The Best of The Best Residential Roofer in Phoenix!
When in doubt, call the pros at Four Peak Roofing! We'll dispatch a highly-qualified project manager to evaluate your project and give a fair recommendation. Call today for a free quote for your roofing repair or roof replacement in Phoenix, AZ!